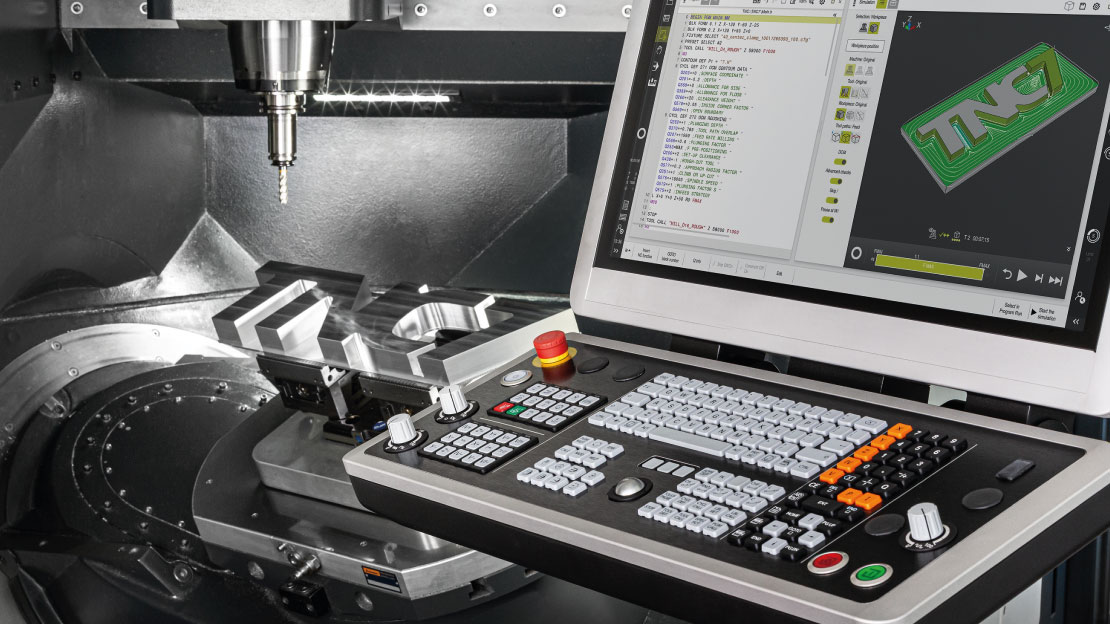 DR. JOHANNES HEIDENHAIN GmbH
Dr.-Johannes-Heidenhain-Str. 5
DE-83301 Traunreut


Exhibitor description
TNC7 from HEIDENHAIN: the new control level
With the new TNC7, HEIDENHAIN is opening the next chapter in shop-floor-oriented manufacturing. The TNC7 supports the user from the initial idea to the finish of the workpiece-in single-part or series production, with complex contours or simple slots. In return, it offers an exceptional operating experience and opens up completely new possibilities for the user at the machine in the workshop. This includes particularly simple and intuitive operation as well as perfect support through the virtual reproduction of the workpiece and workspace. But of course the next control level also features trend-setting machining technologies and cutting strategies as well as powerful functions for process reliability and optimisation. To this end, the TNC7 combines the familiar plain-language functions with features that have been newly developed from the ground up, such as graphic programming. The TNC7 convinces with well thought-out and task-oriented solutions for everyday work.
Visitors to FAMETA 2022 can also find out more about the following solutions and offers from HEIDENHAIN:
The Digital Workshop from HEIDENHAIN offers practical solutions and competent services for continuous digitization with a 360° view of the workshop. These include, for example, the StateMonitor software for machine data acquisition or the digital twin as a true-to-life image of the machine on the HEIDENHAIN programming station.
The TS 460 touch probe from HEIDENHAIN makes it possible to set up workpieces quickly, and recalibrating a machine is a snap. In a typical calibration cycle, the TS 460 and KinematicsOpt save 30 % of the probing time-a noticeable gain in valuable productive time for the shop floor.
The TNC Club is the meeting place for expert knowledge for all users of HEIDENHAIN controls. Here everything revolves around the continuing education of experienced specialists and the training of qualified young professionals. At the HEIDENHAIN booth you can learn everything about memberships and the many club benefits.
Find more information here:
live.heidenhain.com