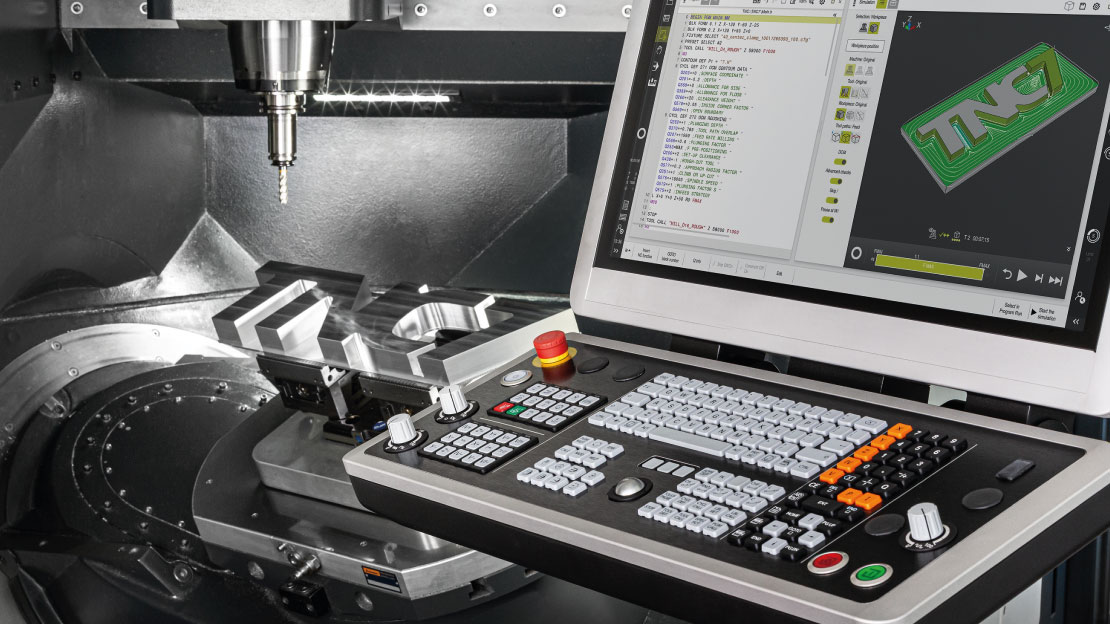 DR. JOHANNES HEIDENHAIN GmbH
Dr.-Johannes-Heidenhain-Str. 5
DE-83301 Traunreut


Exhibitor description
TNC7 from HEIDENHAIN: the new control level
With the new TNC7 control level from HEIDENHAIN, machine tool users experience completely new possibilities in programming and operating their machine tools. This is ensured by many smart functions that take workshop-oriented manufacturing into a new dimension. For example, in addition to the graphic 6D setup of clamping devices, the TNC7 also offers the possibility of measuring any workpiece in the shortest possible time:
This includes simple blanks as well as complex free-form parts or pre-machined milled, cast and welded parts
With the new graphical 6D setup for workpieces, the Model Aided Setup MAS option, the TNC7 guides the user through the individual probing processes with the aid of arrows on the touchscreen using a virtual image of the machine room.
A simple traffic light graphic indicates whether the actual position of the workpiece, including rotations, has already been completely captured and the reference point can be saved.
Visitors to FAMETA 2023 can also find out about the following solutions and offers from HEIDENHAIN:
The Digital Workshop from HEIDENHAIN offers practical solutions and competent services for continuous digitization with a 360° view of the workshop. These include, for example, the StateMonitor software for machine data acquisition or the Digital Twin as a true-to-life image of a machine. Because with the Digital Twin, virtual machining takes place at the programming station in the office just like on the real machine in the workshop, set-up and test times are reduced. At the same time, process reliability and productivity increase. This is because the Digital Twin uses detailed graphic simulations to safeguard many critical processes in the run-up to machining, so that the user can be productive on the machine more quickly and safely.

HEIDENHAIN introduces a new tool breakage sensor for inspecting tools with diameters from 0.4 mm for breakage. The TD 110 detects tool breakage from a length change of 2 mm without contact via an inductive sensor-directly in the machine room with the spindle rotating at operating speed. This not only ensures greater process reliability. The time saving of up to 6 seconds during tool change also results in considerable time and cost advantages.
The TNC Club is the meeting place for expert knowledge for all users of HEIDENHAIN controls. Here everything revolves around the continuing education of experienced specialists and the training of qualified young professionals. At the HEIDENHAIN booth you can learn everything about memberships and the many club benefits.
You can find more information at
live.heidenhain.com
.
Or contact us directly (https://www.heidenhain.de/produkte/digitale-werkstatt/produkt-beratungsanfrage)