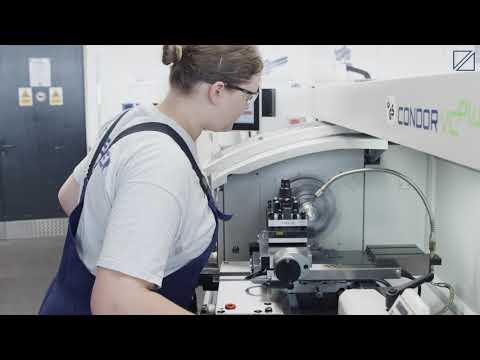 WEILER Werkzeugmaschinen GmbH
Friedrich K. Eisler Straße 1
DE-91448 Emskirchen/Mausdorf


Exhibitor description
WEILER: Precision and quality for 85 years

WEILER's wide product range includes conventional, cycle-controlled and CNC precision lathes for one-off and small batch production in numerous industries. In addition, WEILER is one of the few manufacturers worldwide to offer 4-track precision lathes with cycle automation. Radial drilling machines complete the product range.
All products are manufactured in Germany and promise the highest precision in workpiece machining. The company has manufactured and sold more than 160,000 machines since its foundation in 1938. In addition, it set a milestone in the industry with the development of the first cycle-controlled precision lathe in 1989.
Today, WEILER is the market leader for conventional and cycle-controlled precision lathes in German-speaking countries. In 2023, the family-owned company celebrates its 85th anniversary.
WEILER is part of the Eisler family group of companies, which also includes KUNZMANN Maschinenbau GmbH, Remchingen, and WMS GmbH, Herzogenaurach. KUNZMANN develops, manufactures and sells manual and CNC-controlled universal milling machines, machining centres and complementary automation solutions worldwide. Like WEILER, the partner company is strongly represented in the training segment. WMS is a service provider for retrofitting, general overhaul, electrical and mechanical modernisation and repair of machine tools and special machines of all makes.


Production "Made in Germany"
The precision lathes "Made in Germany" are used in training as well as in individual and small batch production in trade and industry. They can be found wherever the highest precision in workpiece machining is important - in universities and research institutes, optics and medical technology companies as well as machine, tool and mould manufacturers, in the aerospace industry, in pump construction and in oil and gas production.
Around 550 employees produce at the headquarters in northern Bavaria and at a second production site as an extended workbench in Holoubkov in the Czech Republic. The 14,000 square metre headquarters combines sales, administration, research and development, a production hall, two assembly halls, an air-conditioned measuring room for quality testing, a paint shop and the shipping department. WEILER thus controls all work steps along the entire production chain and is able to enforce its high quality standards without any gaps.
In-house research and development are core areas of the company that make an important contribution to WEILER's innovation leadership in the market.
The latest success is the digital learning platform EDUCATION4.0. The newly developed digital learning concept modernises metal training and enables playful access to interactively prepared learning content via a central learning platform. Its gamification approach combines content as well as mechanisms of online games and animation software and enables trainees to learn content in a self-determined way, anytime and anywhere. Their trainers can communicate with them via the learning platform and follow their training progress online. EDUCATION4.0 can be used via any browser-capable end device, on specially configured machines and via their digital twin.


Worldwide service
Our own international service network, consisting of central contacts in Emskirchen and employees on site, ensures rapid maintenance, repair, overhaul and retrofitting of WEILER precision lathes worldwide.
An international network of support points ensures short distances to the customer. With numerous sales partners in Europe and worldwide representatives, WEILER covers the markets extensively. In addition, the company is represented in the USA by its own subsidiary, WEILER North America Corporation.
The family business, founded over 80 years ago, is managed by the managing partners Dkfm. Friedrich K. Eisler and his sons Alexander Eisler, Commercial Manager, and Michael Eisler, MBA, Sales, Service and Marketing Manager.


Fair dealings
The management attaches particular importance to respectful and fair dealings with employees, partners and suppliers as well as to sustainability in the use of resources. In addition to training and further education, they are particularly committed to the topics of regional promotion, the environment and resource-saving production. WEILER generates its own electricity with a photovoltaic system on the roof of the assembly halls, and the waste heat from a biogas plant is fed into the heating network. A bundle of measures has also reduced CO2 emissions by around a third.

Contact WEILER:
Michael Eisler, MBA
Managing Partner

Friedrich K. Eisler Straße 1, 91448 Emskirchen
Phone. +49 (0) 9101 / 705-110
Email: gabriela.oppermann@weiler.de

Further informationen:
www.weiler.de